I recently learned of the deaths of Lou Ottens and Henry Goldrich. These are not famous musicians but their impact on popular music was immense.
Lou Ottens
Lou Ottens was a Dutch engineer credited with inventing the audio cassette. As head of product development for Philips in 1960, he led a team that developed the initial portable tape recorder; he then introduced the first cassette tape at a Berlin electronics fair three years later.
The cassette tape made music portable, as part of car dashboards, boomboxes and eventually walkmans. Cassettes allowed you to make your own mix tapes, making it possible to personalize your own music experience. It make it easier to make copies of music to turn your friends on to, something the music industry tried to discourage as they felt it cannibalized their record sales. As a deadhead, it made possible the trading of live tapes. Prior to tape trading, only way to hear unofficial live material was from "bootleg" records which were not easy to find. When I discovered live tapes, a whole new world of music became available. Thank you Mr. Ottens.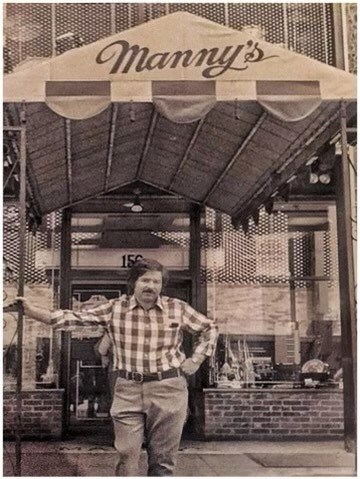 Henry Goldrich
Henry Goldrich was the proprietor of Manny's Music in New York City. Manny's, which closed in 2009 after 74 years in business, was the largest and best-known of the music stores on the West 48th Street block known as Music Row. Manny's was the place where the top musicians went. It's walls were covered with the autographed pictures of it's customers and it was a who's who of great musicians dating from the swing era onward. Both Jimi Hendrix and Eric Clapton went there and supposedly it was Mr. Goldrich who turned them onto the wah-wah pedal. Just think about that . . .
John Sebastian, founder of the Lovin' Spoonful, recalled in an interview how Mr. Goldrich helped him select the Gibson J-45 that he used on early Spoonful recordings like "Do You Believe in Magic?" He similarly matched James Taylor with a Martin acoustic guitar early in Taylor's career and Sting used the Fender Strat that Henry Goldrich sold him to write "Message in a Bottle" and many other songs for the Police. Almost every weekend I would make the pilgrimage to Manny's and the other stores on Music Row so I can look at the cool guitars, maybe even try a couple if the sales person was nice. Eventually, when I had saved enough to get my first good guitar, I bought it at Manny's (a black Fender Telecaster with a maple neck, still have it too).
The history of music is filled with these small players in a big world whose importance to the way we enjoy music will never be fully appreciated. Thanks.